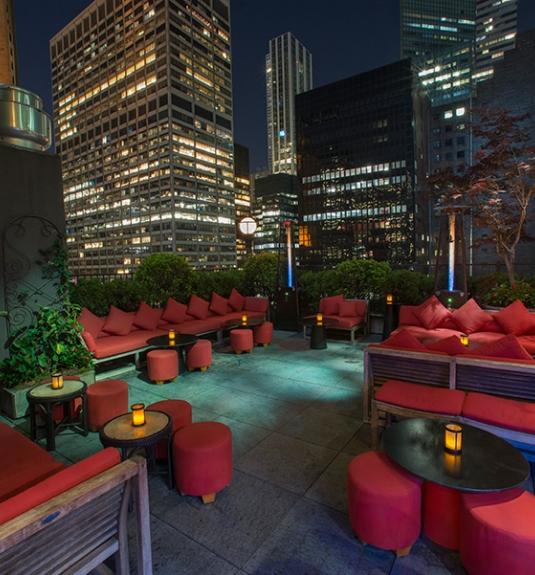 Food and Spirits
An evening Upstairs will be an experience like no other, focusing on refined service
Executive Chef Cristian Flores serves an eclectic array of small plate offerings including such dishes as Tuna Tartare, Spiced Duck Cigars, Baby Lamb Lollipops with Ratatouille, and Mini Kobe Sliders. In addition to great food, the bar features a sumptuous list of specialty cocktails created by Alex Ott. Alex is a perfumer, flavor chemist and a true master of drink mixology. He works with over 65 liquor brands, conducting seminars around the world pairing cocktails with the perfect foods.
The Chrysler a classic, timeless, and unbelievably seductive champagne cocktail made with the finest honey, fresh lemon and lime, topped with the French nectar of love!
An evening Upstairs will be an experience like no other, focusing on refined service in a relaxed luxurious setting, offering its guests a one-of-a-kind rooftop experience and the desire to come back again and again.
Design
Take the express elevator from the street level and be transported to an exquisite world above the city.
Architect, Frank Denner, in collaboration with New York Design firms, Pentasia Designs and De-Spec, has created an all-year-round, glass convertible enclosed, temperature controlled oasis, thirty stories above Manhattan that overwhelms the senses at every turn of its panoramic view.
Take the express elevator from the street level and be transported to an exquisite world above the city.
Both grandeur and intimacy reside here in the harmony of its detailed collaboration: Bohemia Construction connects an amalgam of elements such as a hand-cut bronze bar by Shock Studios, topped with honed absolute black granite by Stone Masters, cascading ivy walls by Sal Cantatore, and hand-painted Venetian walls by Anthony Chase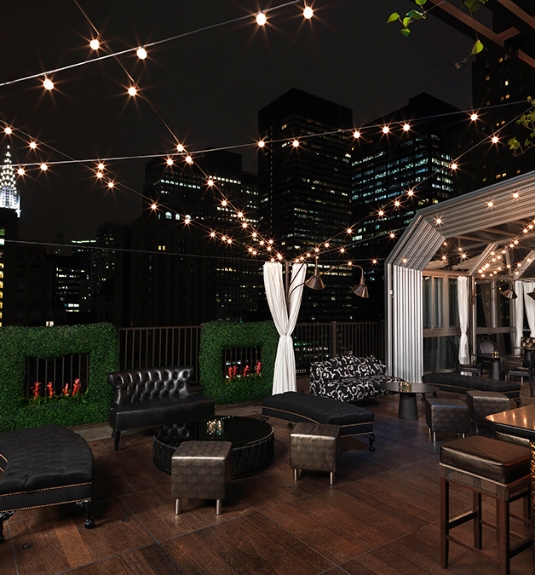 A perfect view of the iconic Chrysler Building is the star of the show, as lighting designer Brian Orter, interprets a fresh spin on old Hollywood-glamour incorporating vintage theatrical lights and strings of incandescent bulbs that float overhead.Deliberately shying away from outdoor lounge-style furniture typical of most rooftop bars as of late, Upstairs' furnishings, carefully curated by Pentasia Designs from renowned houses such as B&B Italia, Moooi and Piet Boon as well as lush tufted banquets by Esquire, creates an atmosphere of chic sophistication. Both hyper-modern and neo-gothic, guests may relax and unwind any time of year in an airy vista or a starry refuge. Whether in the sun or under the stars, Upstairs is truly a magical escape.
Availability
We Are Available At All Times
For Every Occasion
Contact Info
Penthouse Level
145 East 50th Street
New York City
Hours
Monday
Tuesday
Wednesday
Thursday
5pm-11pm
5pm-12am
5pm-12am
5pm-1am
5pm-2am
12pm-4pm (Brunch), 12pm-2am
12pm-4pm (Brunch), 12pm-11pm
.

Guests must be 21 years of age or older to access the rooftop after 4pm.
.

Proper Attire Required: (business casual, no sneakers, caps or flip flops)