Friends Brunch! #MyViewUpstairs #CocktailsWithAView
Elevate your feed with fresh photos of the city and lux décor
Remember summer? This time last year, your social media was raking in the likes with snapshots from your 4th of July party and the latest music festival. But here we are, halfway through summer, and you're struggling to post even one picture that doesn't feature your favorite pajamas.
Social media reminds you every day that some people are lucky enough to be quarantining on the French Riviera or Caribbean beaches. But you live in the greatest city in the world! So why sleep on it? After all, there are only so many ways to photograph the view from your couch.
Sure, you could grab a mask and muddle through crowds for a shot in front of The Vessel. But there are insta-worthy spots on your doorstep and you don't have to brave the heat or risk of tourist traffic to find them.
You have a rare opportunity this summer to experience glorious views of Midtown from 30 stories high without worrying about hotel guests from out of town. Until September, the Kimberly Hotel is a locals-only hotspot offering stunning views and the European extravagance that your travels are lacking this year. Come Upstairs to capture city magic without the travelling masses and experience the views deemed "bucket list-worthy" by Parade Magazine.
Capture photos with the 360° view and use #MyViewUpstairs so we can see them too!
Bring a friend to hold the camera because we'll be sharing your best photos on our social media.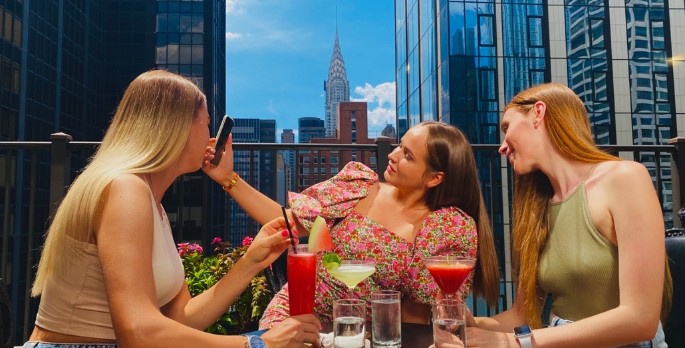 From soaking up those summer rays at weekend brunch to setting the mood under starlight, Upstairs has something to offer for all occasions. Feel free to dust off your evening best because the retractable glass roof transforms this locale into a year-round (and weather-proof) experience. When you're taking in penthouse views with a master mixologist behind the bar, social distancing never looked this good.
You deserve something to celebrate so spice up your social media and ours by getting the gang together again – Upstairs at the Kimberly Hotel.
Named the "not-to-be-missed rooftop bar and lounge" by Forbes magazine, this penthouse venue makes the perfect spot for your next brunch date or girls' night out.
With top-of-the-line protocols in place, you're safe to sip and soak up the stars this weekend. Trust Upstairs to handle the Clorox wipes while you order from a paperless QR code menu and savor carefully made plates with friends. This elegant space is even open to you for birthdays, graduations, and any other private events you're tired of celebrating at home.